This memorial website was created in memory of our sweet baby boy,
John Joseph Rogan III "Jack" who was born on Friday, October 21, 2005,
and passed away on Thursday, February 23, 2006.

He was sleeping.
Now he rests with angels.
We will always love him and will remember him forever.




Support SIDS research!
Visit www.firstcandle.org or www.sids.org to learn more and
to make a memorial contribution.




Click here to light a candle for Baby Jack.







Jack's Journey into This World …

There was something extraordinary about little Jack. From the very beginning, we knew that this baby was blessed, and that he was meant to be here with us in this time, in this way. He faced many challenges to get into this world, only to leave it too quickly.

Our pregnancy was a welcome surprise, albeit quite unexpected after battling fertility issues with our first child, Maggie. It was a difficult pregnancy. Chrissy had many complications throughout, which created an unfriendly environment for little Jack. Thankfully, we had excellent care by both our obstetrician and our maternal-fetal medicine specialists. Together they carefully monitored Jack's growth and development. We prayed for the delivery of a healthy baby.

Jack was born on Friday, October 21, 2005, at 2:26 in the afternoon. A big boy with a strong cry, he weighed 8 pounds 3 ounces and measured 19 inches long. Through tears of joy, we prayed once again, this time thanking God for the beautiful blessing that was our sweet boy.







Jack Brings Joy to his World …

Seeing Jack for the first time, holding his sweet little body close to mine, looking into those beautiful eyes, we felt even more strongly that there was something extraordinary about Jack. He truly was a gift from God, and we knew that there was something very special that Jack was supposed to do in this lifetime.

Jack had such a way about him. There was a peacefulness, a sense of knowing. When his eyes met yours, it was like he could see into your very soul – and then he sent these beautiful waves of love and calmness. His beautiful eyes were deep blue, like the night sky – and big like that, too. They shone with an inner light. 'Windows to the soul,' they say ... our little man has a big, beautiful one!

Jack always wanted to be held, to be snuggled, to touch. Even as a newborn, he would reach out to touch me, or whoever was holding him. He loved to be loved, and we were happy to oblige! He was our little snugglebug!

He had a beautiful smile that changed the whole character of his face. He had a little cleft chin and a dimple that was just starting to appear in his right cheek when he smiled. When you walked in the room, even if you were only gone a minute or two, his whole face would light up and he'd gift you with that beautiful smile that reached from one ear to the other. Then his legs would start going!

Those sweet little legs expressed as much emotion as any part of his body. When he was excited, he would kick them up and down – they'd be going like he was riding a bicycle in a race. When Jack was frustrated or angry about something, he'd extend them with such strength and force that he nearly popped out of my arms a couple of times. His legs might have been slim, but they were strong! When he was playing, he could spin himself with those little legs, twirling his body around in a circle like a little helicopter. Oh, my sweet boy. Such strength, such will, such a beautiful little man.

How did a soul that big and beautiful reside in such a little body? Maybe that was the problem. Maybe he had very important things to do – things he couldn't do in his little earth-bound body. I find some solace in that thought.

On Thursday, February 23, 2006, Jack went down for a nap, and never woke up. We have no explanation for Jack's death. He was a perfectly healthy child. After several months of waiting for answers, we were told that there were none. No amount of medical expertise was able to determine the cause of this tragedy. The medical examiner listed his cause of death as Sudden Infant Death Syndrome (SIDS).






Since Jack Passed Away …

We're so blessed to have had our little man for any amount of time. We got to love him and hold him and smell him and touch him and kiss him for four beautiful months.

I miss his smell. I miss his touch. I miss those beautiful eyes that could see straight into the heart of me. I miss the snuggles. I miss the smiles. I miss holding him in my arms and the world around me melting away.

There are times my sadness is so great that I feel like I can't breathe. I find myself hugging my arms to my chest as if I'm holding my sweet boy, and rocking back and forth – swaying as I used to sway when I held him.

Little glimpses of him flash in my mind like snapshots. They make me smile even as tears well up in my eyes. I hope I never lose that. I don't want to forget my sweet boy. I know he's still with me, all around me – but I miss the physical contact. I miss the looks. I miss those moments of quiet joy – of holding him in my arms, looking in his eyes, and feeling completely encompassed by love and joy. What a gift! What a beautiful blessing!

In the time since Jack has passed, we've grown so much in our spirituality and in our love for life. Life is a gift, and it's meant to be lived every day! We also don't let a day go by without telling the people we love how much they mean to us. Life is so precious, and it should never be taken for granted! People who know us and who know Jack's story also have a greater appreciation for the gift of life, the gift of family, and not taking anything for granted. What a beautiful legacy for Jack to have!

We are so blessed to have had Jack in our life . God blessed us – He gifted us – with that time. We're so thankful for every moment of it!





Sudden Infant Death Syndrome

Even today, in this age of modern medicine, SIDS remains the number one cause of death for infants between one month and one year of age. The "Back to Sleep" campaign greatly reduced the incidence of these deaths, but there are still so many babies that die this way. Too many. Our baby was one of them.

We don't want Jack to be just a statistic. He was a real baby, and he had a real personality. He was affectionate and smiley, and he would literally jump for joy when his Mommy, Daddy or big sister Maggie came into the room. We treasure every sweet little memory that of that time we had with him. We were so blessed to have had our little man in our lives. We will love him always!

Surely there must be no greater tragedy for a parent than to lose a child. It is through research that other parents might be spared our fate. Our wish is that by sharing Jack's story we can raise awareness and, with the generosity of others, help to support the research that will one day eradicate SIDS altogether. Please consider giving your support, and help to solve the puzzle that is SIDS.


Support SIDS research!
Visit www.firstcandle.org or www.sids.org to learn more and
to make a memorial contribution.







Thank you for reading what my Mommy and Daddy wrote about me. My Mommy, Daddy, big sister Maggie, and the rest of my family miss me very much. Please pray for their comfort and healing. Know that I am watching over all of you and sending big snuggles and love from heaven!
Love,
Baby Jack




Click here to light a candle for Baby Jack.







For my little man on his first angel day …

By Chrissy Rogan
2/23/07


How I love you

How I miss your sweet touches

How I miss looking into your beautiful eyes



I thought I would always be able to hold you,

To talk to you, to watch you grow

Now it's you who are watching me grow.



I know you're with us

That you watch over us from heaven

I know that you're in God's presence

And that is glorious

But I miss you



I long to look in your eyes again, to feel your soft skin

To hear your first words, to watch you take your first steps

And that will never happen.



I don't know why God chose this for us.

I can only wonder at His plan

And trust in Him



But this really hurts

More than anything else in my life, this hurts



I think back to your beautiful little life

How you brought joy to everyone you met

Such a blessed child!

Such a beacon of love and light!

Created from love

Brought to us through prayer and faith

And taken away in the arms of angels



And here I am, struggling through my grief

Remembering all of our precious moments together

Knowing that you're always with me,

But that I will never hold you again on this earth



You came into our lives so unexpectedly

The answer to a prayer

A gift from God



You were gone in an instant

Taken back to heaven without a sound

Just the whispered hush of angels' wings



And here I am,

living without you

loving you every moment

waiting for the time we can be together again








"He will gather the lambs in His arms,

holding them close to His heart."

~ Isaiah 40:11







Jesus said, "Let the little children come to Me,

and do not hinder them, for the kingdom of heaven

belongs to such as these."


~Matthew 19:14





"I prayed for this child, and the Lord has granted me

what I asked of Him. So now I give him to the Lord.

For all eternity he shall be given over to the Lord."

~ 1 Samuel 1:27-28a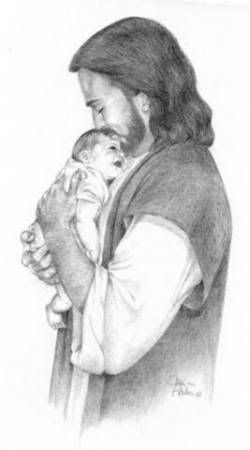 A Child Of Mine (To All Parents)
Edgar Guest

I will lend you, for a little time,
A child of mine, He said,
For you to love the while he lives,
And mourn for when he's dead.

It may be six or seven years,
Or twenty-two or -three,
But will you, till I call him back,
Take care of him for Me?

He'll bring his charms to gladden you,
And should his stay be brief,
You'll have his lovely memories,
As solace for your grief.

I cannot promise he will stay,
Since all from earth return,
But there are lessons taught down there,
I want this child to learn.

I've looked the wide world over
In search for teachers true
And from the throngs that crowd life's lanes,
I have selected you.

Now will you give him all your love,
Nor think the labor vain,
Nor hate Me when I come
To take him home again?

I fancied that I heard them say,
'Dear Lord, Thy will be done!'
For all the joys Thy child shall bring,
The risk of grief we'll run.

We'll shelter him with tenderness,
We'll love him while we may,
And for the happiness we've known,
Forever grateful stay.

But should the angels call for him
Much sooner than we've planned,
We'll brave the bitter grief that comes,
And try to understand.






"Godspeed, Little Man.

Sweet dreams, Little Man.

My love will fly to you each night on angels' wings.

Godspeed.

Sweet dreams."

~ From "Godspeed" by Dixie Chicks ~




Do not stand at my grave and weep,

I am not there, I do not sleep.

I am a thousand winds that blow,

I am the diamond glints on snow.

I am the sunlight on ripened grain,

I am the gentle autumn rain.

When you awaken in morning's hush,

I am the swifter uplifting rush

Of quiet birds in circled flight.

I am the soft star that shines at night.

Do not stand at my grave and cry,

I am not there, I did not die.


Written by Mary Frye





And if I go,

while you're still here ...

Know that I live on,

vibrating to a different measure

-- behind a thin veil you cannot see through.

You will not see me,

so you must have faith.

I wait for the time when we can soar together again,

-- both aware of each other.

Until then, live your life to its fullest.

And when you need me,

Just whisper my name in your heart,

... I will be there.


"Ascension"
Copyright ©1987, Colleen Corah Hitchcock





Thank you for visiting Baby Jack's website. Please let us know that you have been here by lighting a memorial candle for our sweet little man.

Blessings and thanks,
Baby Jack's family